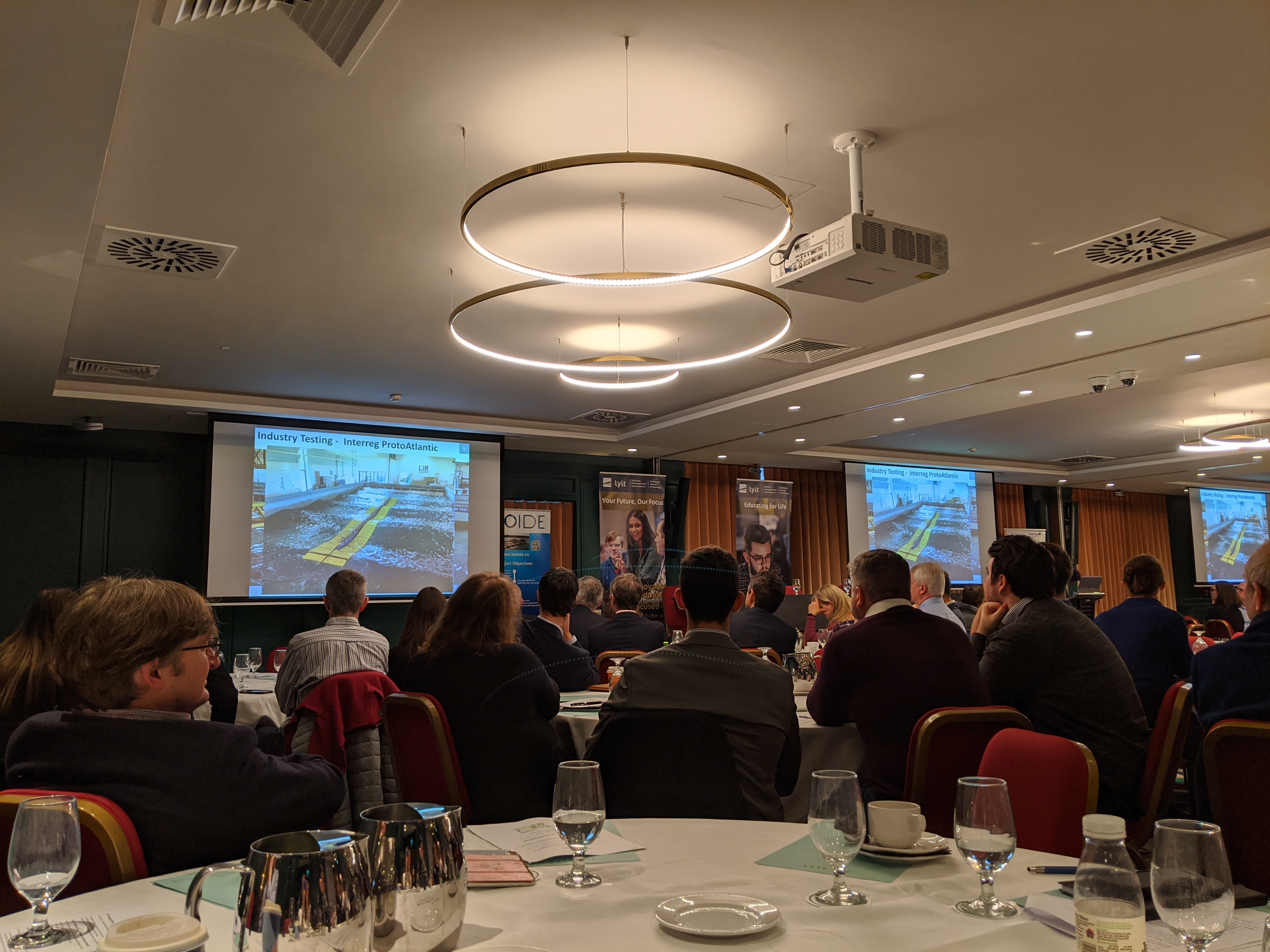 ProtoAtlantic attended the MRIA (Marine Renewables Industry Association) 11th annual Marine Renewables Emerging Technologies Industry Forum, which took place on the 6th February 2020 in The Alex Hotel, Dublin. The event was attended by over 250 key industry professionals in the marine sector, the largest attendance at the event to date, and the largest annual gathering of marine companies nationally in Ireland.
Peter Coyle, Chairman of MRIA, and Martin Finnucane, Principal, Department of Communications, Climate Action and Environment, opened the event, with Martin Finnucane outlining the commitment from the Department to continue ongoing efforts to tackle climate change through greater focus on marine renewable solutions. Following on from this, there were also introductions from Paul Hannigan, President Letterkenny Institute of Technology, and Mark De Faoite, Director of Enterprise, Employment and Property - Údarás na Gaeltachta.
After the initial introductions, Session 1, entitled "Where are the new technologies and markets for them going?" commenced, and was chaired by Niamh Kenny, business development manager of DP Energy. Presentations were delivered by Phil Hemmingway, Sustainable Energy Authority of Ireland, Jan Reid, Scottish Enterprise, Donagh Cagney, Policy Director, Ocean Energy Europe, and Sue Barr, UK Marine Energy Council who discussed perspectives from Ireland, Scotland, Europe and the UK.
Session 2, "Technology and Policy are advancing", was chaired by Yvonne Shileds-O'Connor, Chief Executive of Commissioners of Irish Lights and consisted of keynote presentations from nine marine technology companies: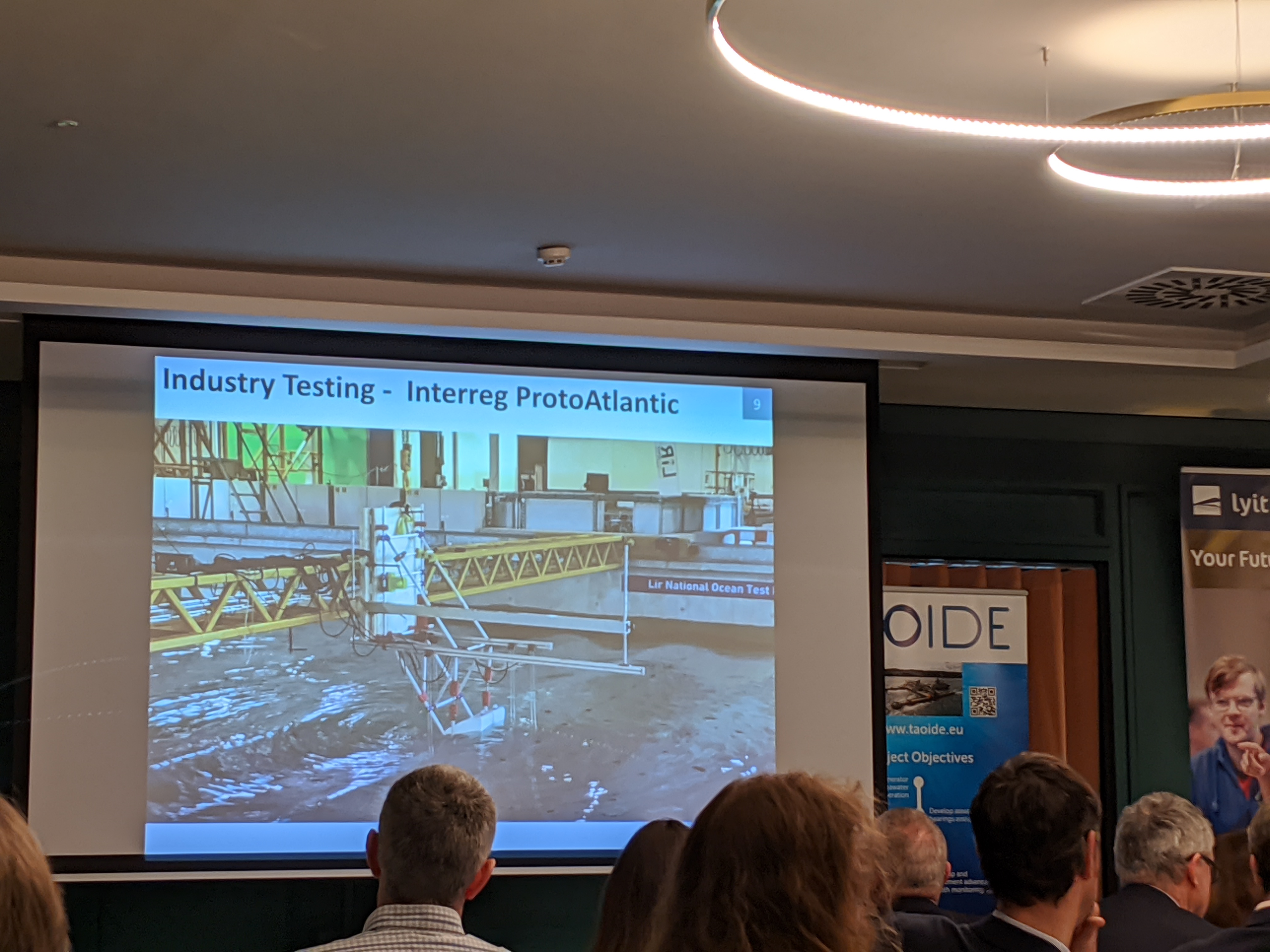 Session 3 consisted of brief five-minute snapshots from various companies in the renewable sector chaired by by Sam McCloskey, Director of the Centre for Advanced Sustainable Energy, Queens University Belfast,. Presentations by specific marine companies or organisations were delivered by;
Vilicom: Adrian Mulholland, Director and CFO
Celtic Seas Alliance: Steve Jermy, Cornwall and Isles of Scilly Local Enterprise Partnership
LiR/MaREI: Jimmy Murphy, Principal Investigator and Head of the LiR National Ocean Test Facility where testing and prototyping of ProtoAtlantic's Fast Tracked Product Development were discussed
Waveforce Energy: John Miller, Director
Bryden Centre: David Rooney, Professor, Queens University Belfast and Bryden Centre
WEC.0: Alan Henry, Director, Rockall Research Ltd.
Ocean Power Innovation Network: Patricia Comiskey, Sustainable Energy Authority of Ireland
Akar: Knut Vassbotn, Head of Business Development, Offshore Wind
Irish Environmental Network perspective: Attracta Uí Bhroin, IEN
EirWind: Valerie Cummins, Senior Lecturer, UCC and co-lead. SFI Eirwind project, MaREI
SmartBay, John Breslin, General Manager
Simon De Pietro, Co-President of Ocean Energy Europe, closed the morning session.
In the afternoon, Gregorio Iglesias, Professor of Marine Energy UCC and MaREI chaired the final session on "MaREI and the Bryden Centre – Advanced Marine and Bio-Energy Research to Harness our Ocean Energy", and this session consisted of six presentations from researchers.
Closing remarks were given by John Doran, LyIT, Regional Manager – Bryden Centre and Visting Research Professor of Chemical Engineering, Queens University Belfast. Peter Coyle, Chairman of MRIA, closed the 11th Annual Marine Renewables Emerging Technologies Industry Forum.